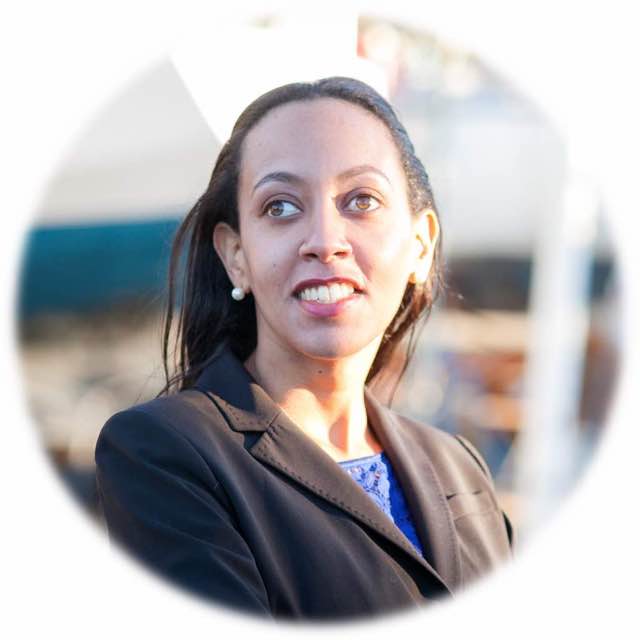 The first Deafblind person to graduate from Harvard Law School, Haben Girma advocates for equal opportunities for people with disabilities. President Obama named her a White House Champion of Change, and Forbes recognized her in Forbes 30 Under 30. Haben travels the world consulting and public speaking, teaching clients the benefits of fully accessible products and services. Haben is a talented storyteller who helps people frame difference as an asset. She resisted society's low expectations, choosing to create her own pioneering story. Because of her disability rights advocacy she has been honored by President Obama, President Clinton, and many others. Haben is also writing a memoir that will be published by Grand Central Publishing in 2019.
Haben has been featured extensively in media around the world, including the BBC, NBC, Forbes, NPR, and many more. If you work in media, please read this brief guide on producing positive disability stories. You can read Haben's FAQ and featured work.
Haben offers accessibility and diversity training, consulting, and professional speaking services. Haben combines her knowledge of law, sociology, and technology to teach clients the benefits of fully accessible products and services. Her insights help to expand our thinking, creating lasting, positive change among people and communities.
Disability & Innovation: The Universal Benefits of Inclusive Design
People with disabilities represent the largest minority group, numbering one billion worldwide. Reaching a group of this scale creates value for everyone. Organizations that prioritize accessibility benefit by gaining access to a much larger user base, improving the experience for both disabled and non-disabled users, and facilitating further innovation. Watch Haben teach 4,000 developers the connection between disability & innovation at Apple's 2016 Worldwide Developers Conference.
Leadership and Advocacy
The daughter of refugees, a Black woman, and disabled, Haben developed a powerful path to success, rooted in her belief that inclusion is a choice. We all have the power to advocate for positive change. Becoming a leader begins by role-modeling the change we need in this world. Haben provides valuable insights that help people become better leaders. Watch Haben share leadership advice with St. Catherine University's graduates in her Commencement Address.
Communication Strategies for a Winning Story
Powerful stories drive successful businesses. Compelling stories communicate what sets an organization apart and how that difference serves as an advantage. Haben Girma is a talented storyteller who helps people frame difference as an asset. Born Deafblind, Haben fought off low expectations, choosing to create her own pioneering story that has led to international acclaim. Through an engaging presentation, Haben provides participants with communication strategies for developing a winning story.
Send speaking requests, media inquiries, and other questions to ERROR: Javascript required to display email address.. Follow Haben on Facebook, Twitter, Instagram, and LinkedIn.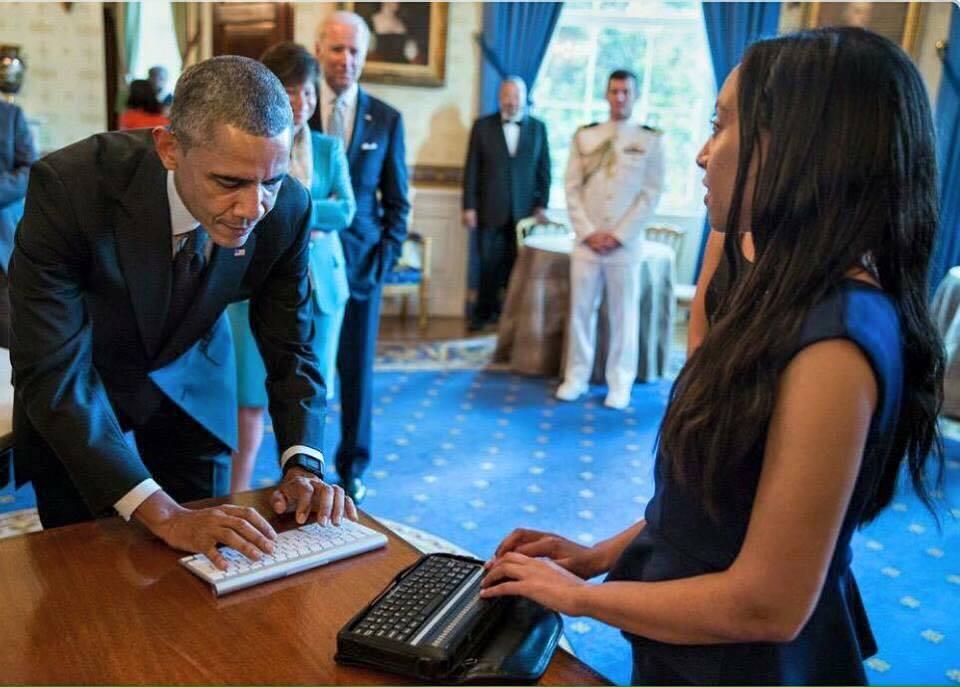 What People Say About Haben
Thank you so much, Haben, for that amazing introduction, and for working to make sure that students with disabilities get a world-class education, just like you have. So please give Haben a big round of applause.
– President Barack Obama
She got out of Harvard, and you know what she's doing? She is an advocate for opportunities for people with disabilities. Because in fact they have enormous ability, and all over the world that ability is going untapped, diminishing their lives and the rest of ours as well. So let's give her a big round!
– President Bill Clinton
I wish to take this opportunity, as well, to recognize you for your lifelong advocacy for people with disabilities, especially for the deaf-blind community. As a teacher and Prime Minister, I am particularly grateful for your work to ensure that students with disabilities have access to the tools they need to thrive at school and beyond. When our society is inclusive, we are all better off.
– Prime Minister Justin Trudeau
Haben had the honor of introducing President Barack Obama and Vice President Joe Biden at the White House 25th Anniversary Celebration of the Americans with Disabilities Act.
I was excited to learn that the Deaf character in the summer hit Baby Driver is actually played by a Deaf actor. This may signal a positive shift in Hollywood.  Historically, most of the disabled characters in films were played by non-disabled actors, and a study by the Ruderman Family Foundation found that 95% of disabled characters on television are played by non-disabled actors. This is called cripface, like blackface, and needs to stop. When filmmaker Edgar Wright searched for an actor to play Joseph, the Deaf father of the main character in Baby Driver, he discovered CJ Jones. Jones is a highly talented actor with extensive experience in film and television. He's also Deaf, offering a wealth of insights into Deaf culture and American Sign Language. Impressed by Jones' talent, Wright cast Jones to play Joseph. Jones became the first black Deaf actor in a major movie.
Jones graciously took time from his busy schedule to talk to me about his career. Jones generally conducts calls through video, allowing him to communicate visually through American Sign Language. Because I'm Deafblind and can't see video, we held the interview over text. Below is a slightly edited transcript of our conversation:
Haben: Film is very visual. Deaf culture and American Sign Language are very visual, too. Do you think being Deaf gives you an advantage over hearing actors?
CJ: Oh, that's an interesting question. Well, Haben, it is not about being hearing or Deaf, it is not about being black or white, it […]
The Eritrean Youth Initiative (EYI) invited me to Ottawa to keynote their inaugural fundraiser dinner. The sold-out event on June 24th raised scholarships for high school students heading to college. My friend Negash Haile and his colleagues at EYI brought together Canadians from diverse backgrounds to recognize students making a difference.
Prime Minister Justin Trudeau was out of town this weekend, so he very generously wrote me a letter. In braille! Mr. Trudeau's message below is the first braille letter written by a sitting Prime Minister. Because he used transparent braille paper over a print page, both sighted and blind individuals can read the letter. This is what inclusion looks like. Providing information in multiple formats, such as braille and print, allows access for disabled and non-disabled individuals.
What an incredible honor to receive this gift. A thousand thank-yous, Mr. Trudeau!
Prime Minister Justin Trudeau's Letter
June 12, 2017

Dear Ms. Girma,

I am writing to express my warmest welcome to Ottawa, as you visit us during Deaf-Blind Awareness Month.

I wish to take this opportunity, as well, to recognize you for your lifelong advocacy for people with disabilities, especially for the deaf-blind community. As a teacher and Prime Minister, I am particularly grateful for your work to ensure that students with disabilities have access to the tools they need to thrive at school and beyond. When our society is inclusive, we are all better off.

Once again, please accept my warmest welcome to Ottawa. I sincerely hope that you enjoy your time here.

Sincerely,
Justin Trudeau