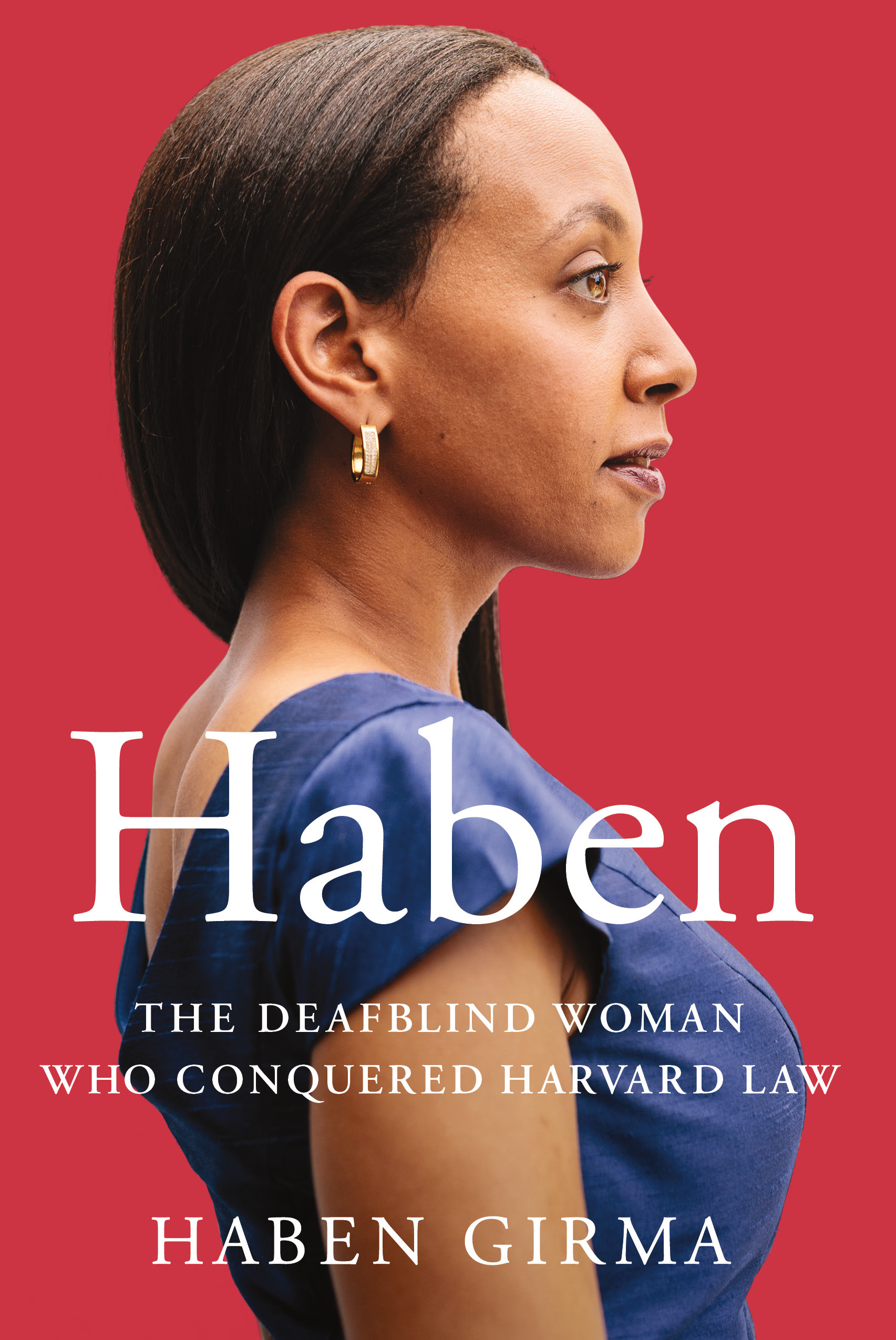 The first Deafblind person to graduate from Harvard Law School, Haben Girma is a human rights lawyer advancing disability justice. President Obama named her a White House Champion of Change. She received the Helen Keller Achievement Award, a spot on the Forbes 30 Under 30 list, and TIME100 Talks. President Bill Clinton, Prime Minister Justin Trudeau, and Chancellor Angela Merkel have all honored Haben. Haben believes disability is an opportunity for innovation, and she teaches organizations the importance of choosing inclusion. The New York Times, Oprah Magazine, and TODAY Show featured her memoir, Haben: The Deafblind Woman Who Conquered Harvard Law.
Haben was born and raised in the San Francisco Bay Area, where she currently lives. Her memoir takes readers on adventures around the world, including her parents' homes in Eritrea and Ethiopia, building a school under the scorching Saharan sun, training with a guide dog in New Jersey, climbing an iceberg in Alaska, fighting for blind readers at a courthouse in Vermont, and talking with President Obama at The White House. Warm, funny, thoughtful, and uplifting, this captivating book is a testament to Haben's determination to resist isolation and find the keys to connection.
The hard cover, paperback, eBook, and audiobook (narrated by Haben herself) are available at most bookstores. Learn more at the book page.
Choosing accessibility is not just about legal requirements, it's also good business. Disabled people are the largest historically underrepresented group, numbering over one billion worldwide. Reaching a group of this scale creates value for everyone. Organizations that prioritize accessibility benefit by gaining access to a much larger audience, improving the experience for both disabled and nondisabled people, and facilitating further innovation. Haben explains in this article, originally published in the Financial Times, "People with disabilities drive innovation."
Haben provides consulting and public speaking on accessibility, diversity, and leadership. Her presentations have touched organizations as wide-ranging as Apple, GE, Lenovo, Microsoft, the New York Times, Oxford Law, Pearson Education, Stanford, and SXSW. The daughter of refugees and a black disabled woman, Haben built her path to success on the belief that inclusion is a choice. We all have the power to advocate. Her engaging presentations ignite audiences to make positive changes in their communities.
Send speaking requests, media inquiries, and other questions to:
Javascript required to display email address.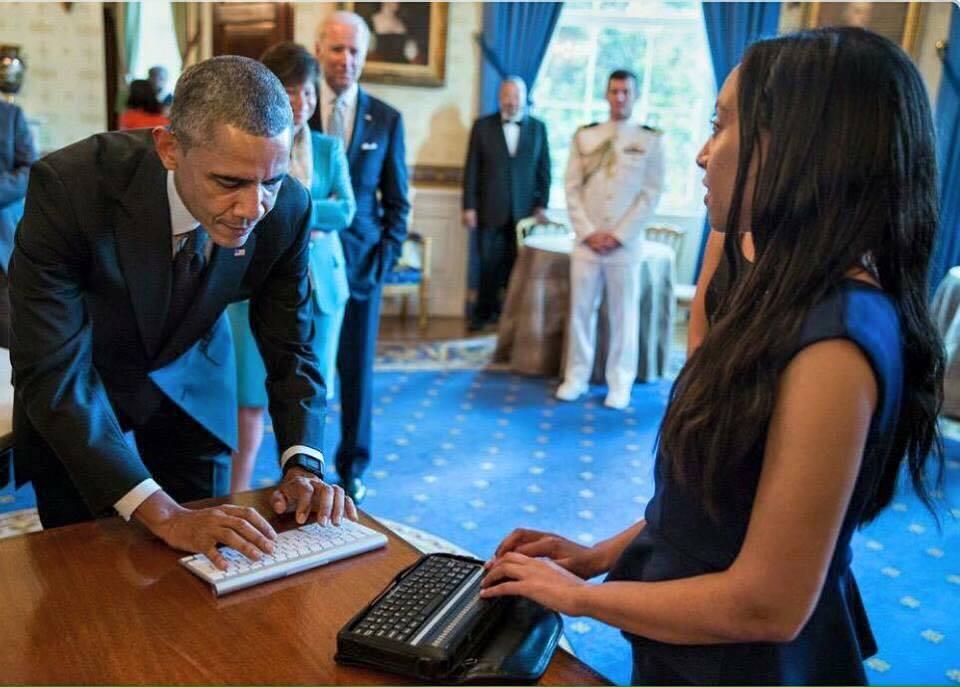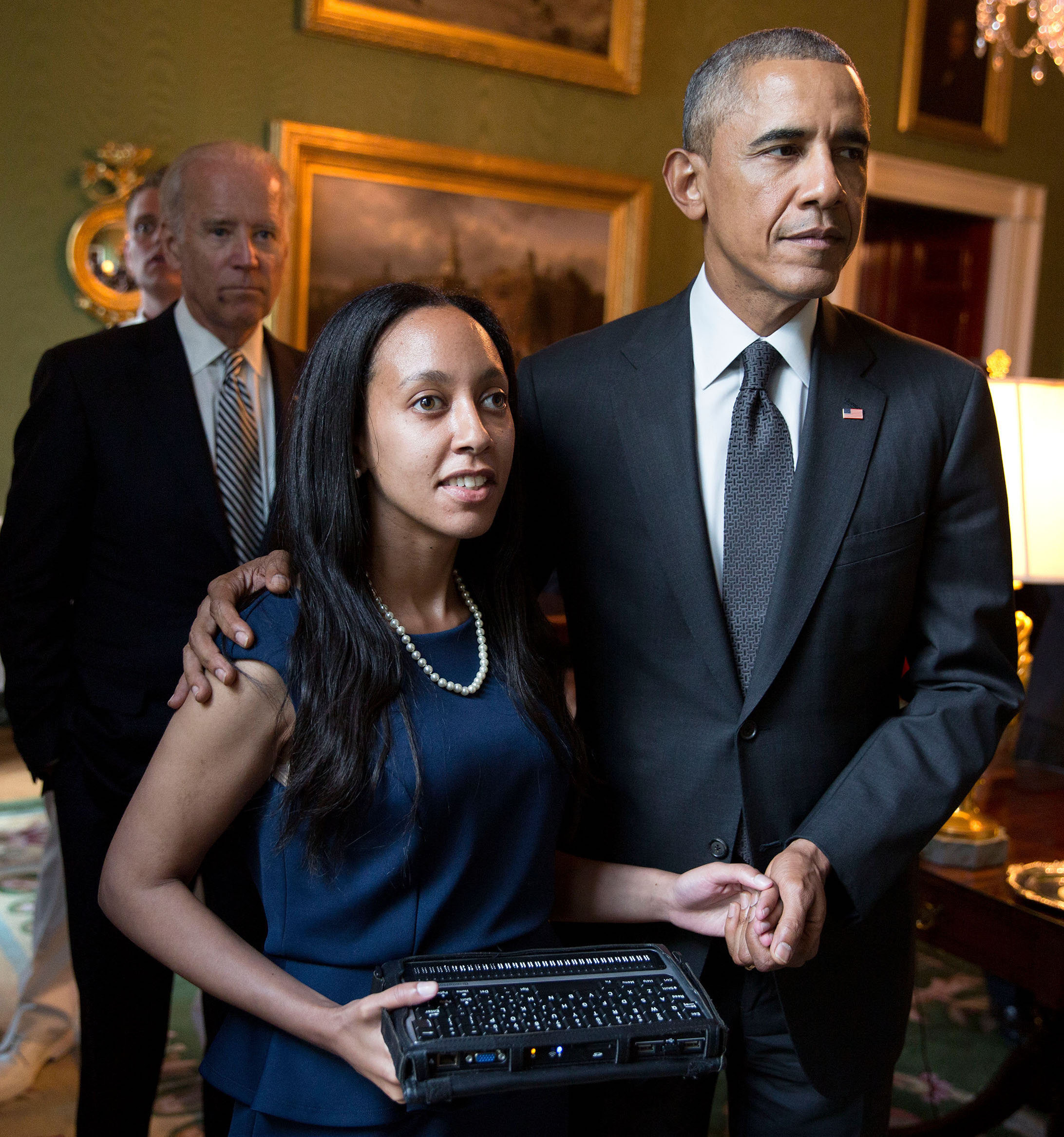 What People Say About Haben
Thank you so much, Haben, for that amazing introduction, and for working to make sure that students with disabilities get a world-class education, just like you have. So please give Haben a big round of applause.
– President Barack Obama
She got out of Harvard, and you know what she's doing? She is an advocate for opportunities for people with disabilities. Because in fact they have enormous ability, and all over the world that ability is going untapped, diminishing their lives and the rest of ours as well. So let's give her a big round!
– President Bill Clinton
I wish to take this opportunity, as well, to recognize you for your lifelong advocacy for people with disabilities, especially for the deaf-blind community. As a teacher and Prime Minister, I am particularly grateful for your work to ensure that students with disabilities have access to the tools they need to thrive at school and beyond. When our society is inclusive, we are all better off.
– Prime Minister Justin Trudeau
Inspiration should lead to action. A blind woman who invented Tibetan Braille and overcame political red tape and ableism, Sabriye Tenberken both role models and teaches social impact. Want to start an NGO? Need help finding donors? Want advise navigating oppressive bureaucracy? Take the course at Kanthari, this social impact institute I was very lucky to visit!
Visit kanthari.org and follow @kanthariTV.
Descriptive Transcript
(The video starts with Haben Girma, a Black woman in her thirties with an American accent, sitting in a large auditorium. Behind her is a stage with a sign that says Kanthari.)
Haben: I know there are many people out there who want to change the world, who have excellent ideas that are going to help people. But maybe you're not sure exactly how to do that.
(A photo of Paul Kronenberg, a tall white man in his fifties who looks thoughtful as he types on a keyboard propped on his lap. Haben sits across from him with a braille display on her lap. They're both beneath an open-air thatch domed gazebo, surrounded by a vibrant green forest.)
Haben: I'm currently at Kanthari in South India. It's an organization to teach dream-makers on how to create organizations that help communities.
(A photo of Haben and Kantharis — a multigenerational group of people from different countries, gathered around a long table: Chacko Jacob, Riya Orison, Surji SI, Malak Alamar, Cornelia Tenberken (Sabriyes mother), Aanand Nagvanshi, Sara Tandel, and paul — smiling as Sabriye Tenberken speaks.)
Haben: Sometimes it's about disability access, sometimes it's about the environment. All of us have ways we can help our communities, and we should take time to learn how to do that.
(A photo of Paul, Sabriye, Cornelia, Haben, and Haben's Seeing Eye dog Mylo sitting in the gazebo, enjoying coffee and cookies.)
Haben: There are scholarships to help people who want to take this course. So if you're interested in learning how to help your community, please go to kanthari.org.
(Sabriye and Haben are sitting next to each other in the auditorium. Sabriye is a white woman in her fifties with a German accent.)
Sabriye: So today we are so lucky that we have Haben here from the U.S. and a lot of our Kantharis talked to her already and they are so inspired by her words, by her story, by her history. And yeah, I cannot say how glad we are and how lucky we are to welcome you here in the, in Kerala, the south of India.
Haben: It is an absolute honor to actually meet you! I read about Sabriye's story when I was a kid. She wrote a book called "My Path Leads to Tibet,"
(A photo of the book cover showing Sabriye holding her cane, and kneeling beside a child. The text says, "My Path Leads to Tibet: the Inspiring Story of the Blind Woman Who Brought Hope to the Children of Tibet.")
Haben: and I learned about a blind woman from Germany who went to Tibet and helped build a school. And I realized when I grow up, I could also help blind and disabled people around the world. And today, I am meeting one of my heroes —
(Sabriye blushes and laughs.)
Haben: at her institute, where she is training more students to learn how to change the world, how to help their communities. What do you recommend people do?
(Text appears on screen: "to support: go to www.kanthari.org.")
Sabriye: If you want to support us financially, you're always welcome. But for example, you can also spread the news and ask people who have dreams for social change to apply. And of course, if you have any skills that are helpful, why not coming along and being a catalyst here in this program?
(A photo of Haben standing outside with four Kantharis Aanand from Delhi, Sara from Mumbai, Malak from Jordan, and Karan Singh from Nepal. Everyone is smiling. There is a brick wall and trees in the background.
Haben: They are going to be sharing their stories on December 15 and 16, and we hope you'll be able to join in and tune in to catch these stories. Go to kantharitalks.org to register and be able to learn from change-makers from 11 different countries.
If you're an adventure seeker, a planner, a dog lover, a passionate alt-texter and a skilled puzzle-solver, this is your invitation: Send us a job application.
I have exciting news to share: the World Health Organization (WHO) has appointed me Commissioner of the new Commission on Social Connection!
The WHO established this new Commission because loneliness and social isolation impact public health around the globe. As someone who struggled with isolation, as a Deafblind woman in a sighted, hearing world, as a guide dog partner who faces public rejection on a regular basis, becoming a Commissioner is a tremendous honor. I feel excited to serve our disability communities, amplifying the challenges and innovative solutions. You can learn more about the new Commission on Social Connection.