Haben: The Deafblind Woman Who Conquered Harvard Law, by Haben Girma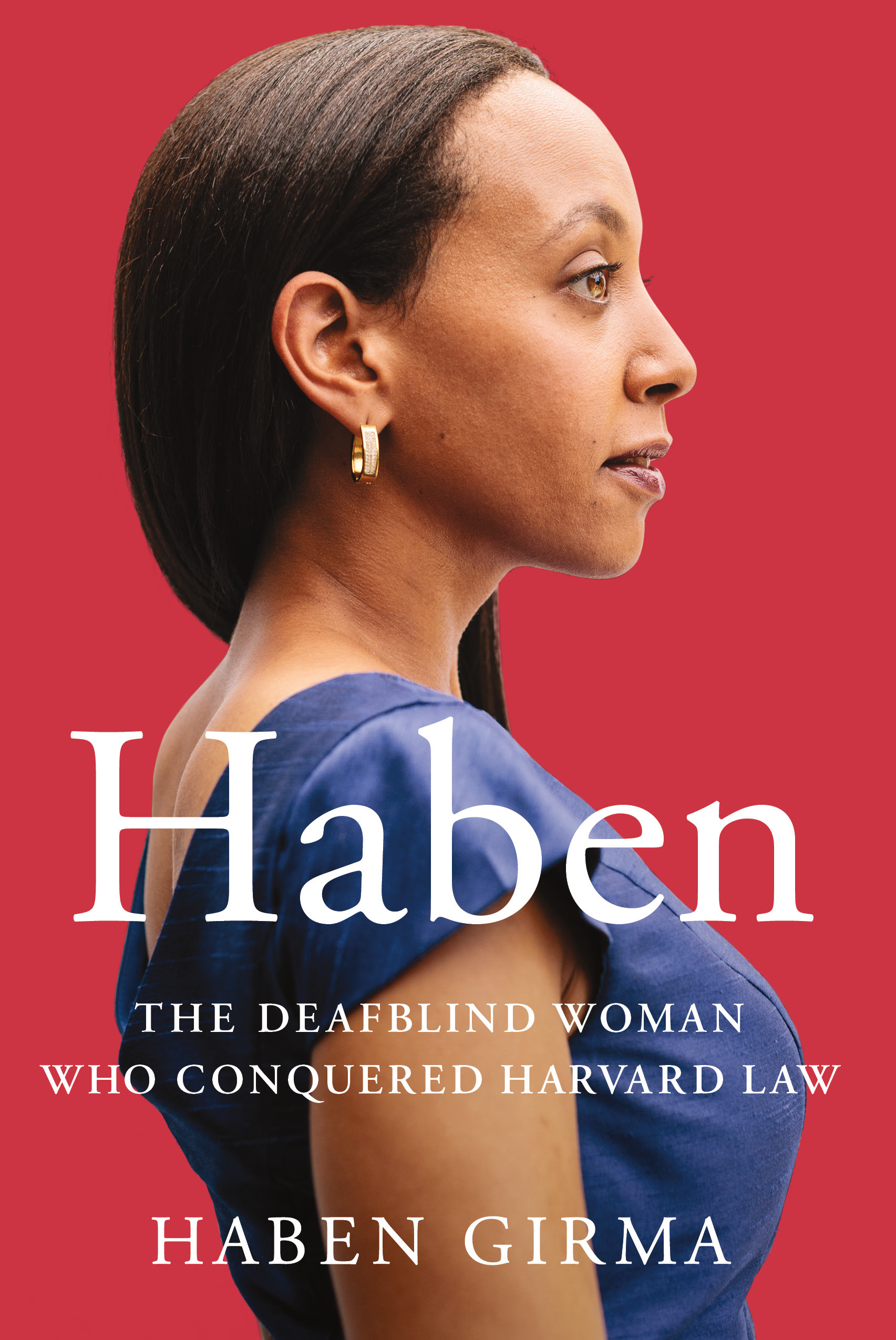 The incredible life story of Haben Girma, the first deafblind graduate of Harvard Law School, and her amazing journey from isolation to the world stage.
Haben grew up spending summers with her family in the enchanting Eritrean city of Asmara. There, she discovered courage as she faced off against a bull she couldn't see, and found in herself an abiding strength as she absorbed her parents' harrowing experiences during Eritrea's thirty-year war with Ethiopia. Their refugee story inspired her to embark on a quest for knowledge, traveling the world in search of the secret to belonging. She explored numerous fascinating places, including Mali, where she helped build a school under the scorching Saharan sun. Her many adventures over the years range from the hair-raising to the hilarious.
Haben defines disability as an opportunity for innovation. She learned non-visual techniques for everything from dancing salsa to handling an electric saw. She developed a text-to-braille communication system that created an exciting new way to connect with people. Haben pioneered her way through obstacles, graduated from Harvard Law, and now uses her talents to advocate for people with disabilities.
Haben takes readers through a thrilling game of blind hide-and-seek in Louisiana, a treacherous climb up an iceberg in Alaska, and a magical moment with President Obama at The White House. Warm, funny, thoughtful, and uplifting, this captivating memoir is a testament to one woman's determination to find the keys to connection.
Buy
Buy Haben's book from any of these retailers:
Praise
"A stirring memoir of love and resilience. Haben proves there are no limits for living joyously in the world. A fierce, glorious advocate for equal opportunity, she demonstrates that accessibility for all benefits all. Her memoir is a soul-inspiring gift."
– Jewell Parker Rhodes, New York Times bestselling author of Ghost Boys
"Reading Haben's story moved me in a way I didn't think was possible. She's a gifted writer, and her story will teach you about strength, perseverance, and determination. This is a strong reminder to embrace the unknown, to stand up for yourself, and to never give up."
– Mashal Waqar, co-founder and COO, The Tempest
"Extraordinary…Haben's is a story of inspiration-and new American patriotism. She gives all of us fresh strength and hope."
– Lorene Cary, author of Black Ice and founder of Art Sanctuary
"With wit and passion, Haben, a disability rights lawyer, public speaker, and the first Deafblind person to graduate from Harvard Law, takes readers through her often unaccommodating world…This is a heartwarming memoir of a woman who champions access and dignity for all."
– Publishers Weekly (Starred Review)
"Warmhearted and optimistic, [HABEN] celebrates personal courage and triumph as well as the unlimited potential of those whose real disability is living in a society that too often does not make accommodations for their physical impairments. An inspiring and illuminating memoir."
– Kirkus
What makes Haben's prodigious story even more remarkable is that she's not satisfied with being inspiring. Because she knows that achievement only happens when there is more than the support of individual extraordinary people, she pushes institutions, leaders in the academy, the government, and in big tech, to widen the corridors of power and opportunity. Her intersectional approach to her work as an advocate for the disabled, as a Deafblind daughter of refugees, refuses tokenization and demands true inclusion.
– dream hampton, award-winning filmmaker, writer, and organizer
Excerpt