About 40 miles West of Puerto Rico, several hundred miles Southeast of the mainland United States, sit the islands of St. Thomas, St. Croix, and St. John. While technically part of the United States, locals refer to the mainland as "the U.S." or "the States;" partly because it is geographically far from the mainland, and partly because the U.S. purchased the islands from Denmark just 97 years ago.
For the past 19 years, the Virgin Islands University Center for Excellence and Developmental Disabilities (VIUCEDD) has organized an annual conference to connect legislators with an important segment of their constituency, Virgin Islanders with disabilities. The conference developed the name Voices That Count, transforming from a breakfast with legislators to an intensive two day conference spanning two islands. Dr. Yegin Habtes, the director of VIUCEDD, organizes the conference with three major goals: securing support from legislators for resources that would empower people with disabilities, urging public officials to take steps to remedy existing access issues, and reminding everyone that people with disabilities are equal members of our community who deserve dignity and respect. Virgin Islanders with disabilities should no longer be treated as "others," but as valued members of the community. Dr. Habtes highlighted this point at the start of the St. Croix conference by playing the popular song by Sister Sledge, "We Are Family."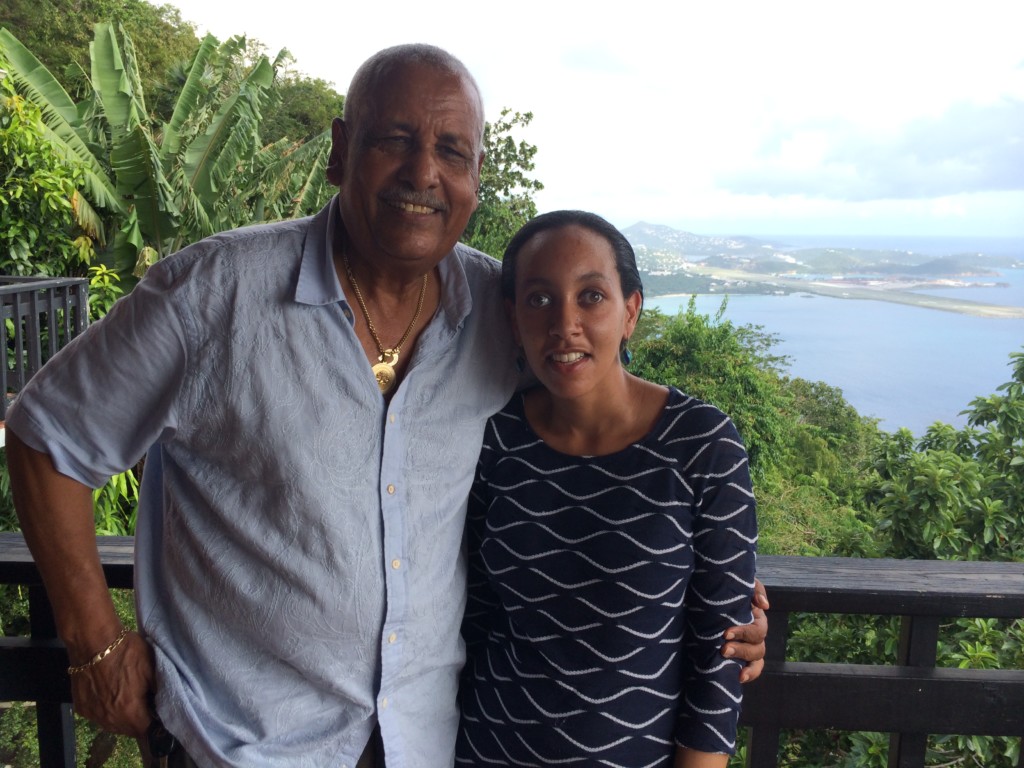 Some people have countered that if Virgin Islanders have lived without assistive technology, without sufficient qualified teachers, without a full-fledged Department of Vocational Rehabilitation, then why would they need it now? Why can't people continue without these resources? Dr. Habtes offers a powerful reply through a proverb he learned in Africa, "You can't miss a cousin you don't know." If public officials do not value these tools, it is because they have not seen how technology and training transforms people into contributing members of society. A small region like the Virgin Islands cannot afford to waste the skills of people with disabilities.
Needing to send a strong message to public officials to persuade them to provide resources for assistive technology and training for people with disabilities, the VIUCEDD brings keynote speakers from the U.S. who are successful people with disabilities as a result of supportive communities. Due to limited educational and employment opportunities in the Virgin Islands, many successful students with disabilities leave the islands after high school. Thus students with disabilities suffer from a shortage of mentors and role models. Special education teachers in urban areas like San Francisco and New York have easy access to potential mentors for their students, adults with disabilities who can offer advice on requesting accommodations in college, finding employment, and other life skills. Virgin Islanders face the double challenge of being geographically far from urban centers on the mainland and losing many of their stars to the allure of U.S. urban centers. For these reasons, Dr. Habtes tries to maximize the exposure of the keynote speaker during the week of Voices that Count.
As the 2013 keynote speaker for Voices that Count, I spent four days sharing my knowledge and experiences with the people of the Virgin Islands. Dr. Habtes and his staff organized an intense agenda of nearly non-stop presentations. The week started with a radio interview with Mrs. Edita Carty and myself. Mrs. Carty is a phenomenal advocate in St. Thomas who is blind and serves as the Chairperson for the Virgin Islands Association for Independent Living. Dr. Habtes' community awareness campaign did not stop with radio; going the extra mile, he persuaded the local television channel to broadcast my St. Thomas  keynote presentation. There were actually two keynote presentations, one on St. Thomas, and one on St. Croix. The two islands sit about fifty miles apart, and the roaring seaplane ride from St. Thomas to St. Croix felt like a cross between a motorboat and plane ride.
Through attending conferences and visiting schools, I learned about the concerns of Virgin Islanders. Many hotels are not wheelchair accessible, which is a major barrier for those who need a place to stay when traveling to nearby islands. It also effects tourism from the U.S. and other places. Another recurring concern was in regards to their streets and sidewalks, which some people playfully call "streets with character." One neighborhood deliberately refused to change the character of their road because tourists tend to avoid bumpy back roads. In some areas, streets and sidewalks are so uneven and bumpy that people with mobility impairments can't get through. At the university, people are concerned that it is hard to find teachers for disability courses. Many talented people leave the islands for the mainland, and bringing people to the islands has been a challenge. There are not enough teachers for students with disabilities in grade school, nor is there enough funding for assistive technology. Last but not least, Islanders told their legislators that they wanted an effective emergency plan in the event of a natural disaster, like a Tsunami.
I have attended several state special education conferences, and only in the Virgin Islands do senators actually attend the conferences. The benefit of such a small community is that it is slightly easier to get the attention of elected officials. Senator Malone, who himself is visually impaired, assured attendees that he would work on their behalf. The Governor recently created the new position of ADA Coordinator. The ADA Coordinator is Stephanie Barnes, a mother of a child with autism. Since the position is so new, there is a tremendous amount of work to do, and Ms. Barnes has been working hard to improve the situation. She announced during the conference one very important step forward: every public office in the U.S. Virgin Islands will soon have procedures for filing ADA complaints. Virgin Islanders currently don't have a clear way to file complaints when they encounter discrimination, but that will soon change thanks to Ms. Barnes.
During one of the Question and Answer sessions, a woman with a speech impairment asked me a question. The woman used a communication device called a Liberator. While the woman manipulated the Liberator to voice the question, my communication assistant typed the question on a bluetooth keyboard that transmitted the question to my braille display. Charles Beady, Associate Director of VIUCEDD, pointed out for the audience that 20 years ago this interaction would not have been possible. In that time, technology has really empowered people, and hence public officials should pour resources into obtaining technology for individuals. Technology is a major key to success, but the removal of social barriers is just as important. Aided by her Liberator, the woman asked me, "What do you do in a culture that is over protective?"
As a small and close knit community, the culture in the Virgin Islands has a stronger sense of community responsibility than many places in The States. The desire to help and look out for each other probably feels slightly stifling to everyone, but it can be particularly suffocating for people with disabilities since "looking out" might sometimes mean preventing people from following their dreams. Virgin Islanders thus have to master a careful balancing act of pushing for the right to step outside comfort zones while appreciating the good intentions of their neighbors.